Custom Foot Orthotics in Virginia Beach, VA
Wearing custom orthotics is helpful when dealing with problem areas in your feet. It reduces pain, improves balance and posture, and resolves other gait issues. Using state-of-the-art technology, they are specifically designed and made according to the wearer's foot size and shape to ensure proper support.
Look no further than BioMechanic Physical Therapy for custom foot orthotics in Virginia Beach, VA. Our physical therapists, who won Best Physical Therapy in Loudoun, will gladly mold a custom pair for you.

The Direct Mold Orthotic is unique and only $50

There are many ways to make an orthotic
Laboratory Fabricated Custom Foot Orthotics
We consider ourselves superior in the industry because we complete a thorough biomechanic exam before making the orthotics. It includes detailed measurements of how your foot is structured and the angles of how it is attached to your body. The former creates stress on different people in various ways, so we put more thought and effort into your orthotic to give you better results. That could mean pain relief or improved performance, depending on your needs.
Direct Molded Custom Foot Orthotics
Perfectly-fitted orthotics don't have to be expensive. We have custom-molded ones that are slim, comfortable, and priced at only $50. Call us at 703-723-7726 to learn how we can help you address your foot problems.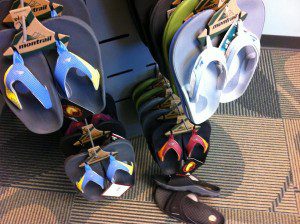 Custom Moldable Flip-Flops
To let you in on the makings of our custom moldable flip-flops, we posted a video demonstrating how it is done. After placing the flip-flops in an oven at 200 degrees, we mold them to your foot as it sits in subtalar neutral (the optimum position for casting). This gives you the most effective fit and the best biomechanic correction.
Custom Adult Orthotics & Pediatric Orthotic Program
Adult Orthotics
Custom orthotics can be very expensive to patients. In order to keep the cost down, we have our patients pay the orthotic company directly. We do a biomechanic exam and cast your feet in the office, then send out the "slipper casts" with your payment information to the orthotic company. With this method, the average orthotics only cost between $160-$195 a pair. This is the "wholesale" price, the orthotics are the same type that normally cost over $400!
When you receive the orthotics, you will get your receipt, which you can submit to your insurance company.
The Pediatric Orthotic Program
We understand the way children grow — in spurts. Those who need orthotic therapy will likely need to replace their devices over their growing years as their feet increase in size and the contours change.
We have a cost-effective answer to this problem: The Pediatric Program for Orthotic Therapy, provided through our orthotics lab. This plan offers packages of three or five pairs of devices at a fraction of the cost.
How It Works:
We will make new casts of your child's feet as they grow and a new pair is needed.

Patients are eligible to enroll before their twelfth (12th) birthday.

The physical therapy fees for the examination can be charged to your insurance carrier.
Get in Touch
Don't lose hope when dealing with foot pain and gait problems because we are here to help. No matter your needs, we have you covered. We can provide you with custom-molded footbed flip-flops, such as the Montrail flip-flops (Molokini and Molokai), with excellent shock absorption and support.
Visit us today for a biomechanic exam to get you the right orthotic and say goodbye to tired and painful feet. You can also contact us for more information or to ask questions. A foot and ankle specialist from our team will be glad to assist you.