Custom Foot Orthotics
Your Feet Don't Have to Hurt! - CUSTOM ORTHOTICS by Physical Therapists

The Direct Mold Orthotic is unique and only $50

There are many ways to make an orthotic
Laboratory Fabricated Custom Foot Orthotics
We are different in how we make our custom foot orthoses in that we complete a thorough biomechanic exam. The biomechanic exam includes many detailed measurements of how your foot is put together, and then the angles of how your foot is attached to your body. How you are put together creates different stresses on different people in different ways. We put more thought and effort into your orthotic to give you better results. Results to you could mean pain relief or improved performance - or both!
Direct Molded Custom Foot Orthotics
Custom orthotics CAN fit in your shoes and DON'T have to be expensive! We have custom-molded orthotics that are slim, comfortable, and ONLY $50!! Give us a call to find out how you can treat your feet! 703-723-7726.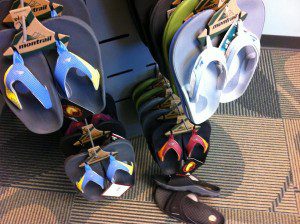 Custom Moldable Flip Flops
If you have ever wondered how we make our custom moldable flip-flops, we posted a video on Facebook demonstrating how it is done. After placing the flip-flops in an oven at 200 degrees, we then mold them to your foot as your foot sits in sub-talar neutral (the optimum position for your foot). This gives you the best biomechanic correction and the most effective fit. See Video.
Custom Adult Orthotics & Pediatric Orthotic Program
Adult Orthotics
Custom orthotics can be very expensive to patients. In order to keep the cost down, we have our patients pay the orthotic company directly. We do a biomechanic exam and cast your feet in the office, then send out the "slipper casts" with your payment information to the orthotic company. With this method, the average orthotics only cost between $160-$195 a pair. This is the "wholesale" price, the orthotics are the same type that normally cost over $400!
When you receive your orthotics you will get your receipt which you can them submit to your insurance company.
The Pediatric Orthotic Program
We understand the way children grow...in spurts. Children who need orthotic therapy are likely to need to replace them over the course of their growing years as their feet increase in size.
Here is a cost effective answer to this problem - the Pediatric Program for orthotic therapy which is offered through our orthotic lab.
This plan offers packages of three or five pairs of devices at a fraction of the cost.
New casts of your childs feet be taken as your child grows and a new pair is needed.
Patients are eligible to enroll before their twelfth (12th) birthday.
Physical therapy fees for examination can be billed to your insurance carrier.
Do your feet hurt? Do you love your flip flops? But you are SUPPOSED to be wearing your orthotics?? Bet you didn't know it could get even better - custom molded flip flops! These Montrail Flip Flops (Molkini & Molokai) are custom molded in our clinic to fit your feet. They have great shock absorption and the best support you can find in a flip flop. Our Physical Therapists who won Best Physical Therapy in Loudoun will be glad to mold a pair custom for you! CUSTOM MOLED ORTHOTIC FOOTBED FLIP-FLOPS!
Come in today for a biomechanic exam to get you the right orthotic and say good bye to tired and painful feet! 703-723-7726