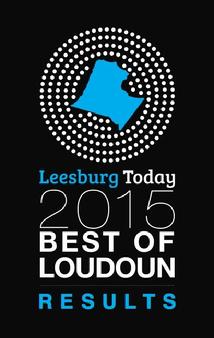 We WON AGAIN! This is our third award in a row for being voted the Best PT Clinic in Loudoun County! The local newspapers (Leesburg Today & Loudoun Times Mirror) run readers polls every year to see who the people's choice is for services and places of business and pleasure. We have been nominated and chosen for three years running. Thank you everyone for supporting us! It does us good to do you good! If you haven't met us yet, call today or come in for a tour, 703-723-7726. We are located near Ashburn, Leesburg, Dulles areas. We are near INOVA Loudoun Hospital, The Lansdowne Resort, and Leisure World of Lansdowne.
Number 1 Physical Therapy practice in Loudoun County!
We are truly thankful for this award and being named the best Physical Therapy clinic in Loudoun County. We have worked hard to make sure that our patients are treated with the best care available. We would like to thank our staff for all their hard work and dedication to both the practice and the patients.
Thank you for voting for us and continually allowing us to treat your pain!
"Going beyond your symptoms to correct the source of your pain."
Patient Testimonials...
---
"If someone had told me two months ago that I could have pain-free days I would have told them they are fools. The tingling and numbness in my left thigh is gone. I have much more flexibility and mobility. Hooray!"
- Carol B.
---
"I had amazing progress in only three visits! Prior to coming in, I had a noticeable limp and was in chronic pain. I now walk without a limp and my core feels strong. I am very happy with the progress! Thank you Again!"
- Bob G.
---
"I feel great and back to normal. I am pain free and back to regular activities. Had great care!"
- Becky.
---
"I am getting my life back! I no longer take anything for pain. I feel more flexible and strong. I only have some occasional SI aching on the left side. I am gaining core strength again. YEAH!"
- Patty G.
---
"I am astounded with how much better my back feels since coming here! I truly thought nothing could less the pain short of corrective surgery.........I was wrong!"
- Erin W.
---
"When I started PT I felt like an 80 year old with joints that hurt every move I made. Today and over the past few months with continued PT my muscles and joints feel 99% healed. I am very grateful to the staff and my therapist for her dedication to work out my muscle knots. The front desk staff is fantastic with reminders and bubbly personalities. Thank you for fixing me."
- Linda
---
"Have you ever heard of a "frozen shoulder?" I had not, but learned first hand it hurts. My therapist Amelia & her teammates at BioMechanic PT made all well in the most professional and fun way."
– Rick
---
"My lower back pain is gone! I look forward to continued work on strengthening my core muscles!"
- Karen E.
---
"The therapy has been excellent! Johna and the team are awesome to work with. Johna examined me on day one and prescribed a work-out that has greatly improved my structural condition. I have even begun running again. I believe that if I continue this work we will fully correct the problem. Please continue to recommend people. They are great!"
- Linda.
---
"When I arrived at BioMechanic Physical Therapy I was in intense pain with reoccurring back spasms. BioMechanic PT treated my back unlike any other PT I've experienced before. The results were the quickest to full recovery "and" flexibility I have not seen in myself in over 15 years! I am sold on BioMechanic and highly recommend them."
- Kevin C.
---
"When I first came I couldn't sleep any longer than 4-5 hours because I was in so much pain. It was verging on the intolerable for me! I can now get through a full night with less aching, with some nights totally pain free. Thank You!"
- Mary D.
---
"I have turned the corner with my achilles tendonitis in both ankles. The staff at BioMechanic Physical Therapy quickly fit me into their schedule, provided several types of treatment modalities, exercises and corrections to bad habits. I am able to return to teaching dance class without pain."
- Lisa P.
---
"WOW!"
- Sandra F.
---
"Beginning from day one all of the therapists were very helpful & welcoming. The staff does a very good job of describing each exercise and activity they have for their patients. If it hadn't been for the staff here I probably wouldn't be feeling back to the way I was prior to my surgery. I am very grateful to the work they have done and would strongly recommend them to other patients."
- Michael G.
---
"I am so glad [my doctor] recommended BioMechanic PT to me. They are fantastic. It is a great atmosphere and I always am so happy when I leave. My progress has been fantastic. I am doing things I have not done in years. I would recommend them to everyone. They worked with my insurance and I am so happy!!"
- Teresa L.
---
"This has been a wonderful experience - my arm and neck are so much better and the things that I have learned about muscles and how they work together has been so informative! Thank you for helping me get ready for football season at VA Tech."
- Lisa B.
---
"I came to BioMechanic barely able to put weight on my left leg to walk down the stairs without pain. Within a few visits the pain as reduced and walking was easier. A few weeks later I have very little discomfort and am feeling 98% better. Thanks to BioMechanic for all their TLC, I should be 100% back to normal very soon."
- Terri V.
---
"The neuritis in my shin is much better. I'm being subjected to a cupping technique and although it hurts like hell the results are fantastic. The intense pain when the nerve is touched is gone. I am so excited for the future results."
- Susan F.
---
"I am extremely pleased with all the attention and support that the team gave me during my recovery. I highly recommend BioMechanic P.T. They made the recovery fly by. Their coaching could not have been better!"
- Leo T.
---
"I am so happy with my progress. I have only been 2 times and am 100% better.. Very little pain at all. I can't tell you how much the atmosphere and kindness BioMechanic PT has given me. I love them!"
- Teresa L.
---
"I called BioMechanic because my neck was extremely stiff, I was unable to turn my head. As usual, the staff was wonderful and I am ready for my trip to Romania on Monday."
- Kathy A.
---
"All of your staff took exceptional care of me. They were professional & personable. I'll definitely refer you to my athletes & friends."
- Robert D.
---
"They worked magic! I had been having increased lower back discomfort over the past couple of months, then one morning it came to a head. My back seized up and I was in excruciating pain. My therapist squeezed me in-worked her magic and I felt 100% better in only 2 days. I am so grateful."
- Joanne T.
---
"The best PT Group in the world! When I first came in I couldn't bend over to tie my shoes. Now I am skiing and getting ready to play competitive tennis again. BioMechanic is unique in their approach and I recommend them highly!! I've been to many PT's and BMPT is the best!"
- Alan M.
---
"I have never felt better. No pain, less fatigue and I'm confident I can do the physical activities I've always enjoyed! Thank you for everything!"
- Ashleigh C.
---
"The therapy at BioMechanic has truly been a great experience. The therapists are very knowledgeable and motivating. I have achieved great success in my weekly therapy. I will continue to be ahead of schedule because of BioMechanic Physical Therapy."
- Kevin P.
---
"I was experiencing almost daily headaches from my neck and back. Sleeping was difficult due to neck pain I've suffered for about 13 years. After my treatment here, I now have no tension in my neck and sleep soundly. Headaches are gone and my neck moves freely. I didn't expect such great results after years of pain. This technique really works."
- Vickie K.
---
"At 4 weeks post ACL surgery, I've been very pleased with the rehab success - due highly to the efforts of BioMechanic. All personnel there are very personable and professional. Great job!"
- Betty P.
---
At BioMechanic Physical Therapy we strive to provide our patients with exceptional care. During the course of therapy we ask our patients to take the time to give feedback to help us continue improving our practice and provide patients with the care and results they deserve. The testimonials above illustrate our philosophy.