Meet our Expert Physical Therapists
We win Best Physical Therapy Practice in Loudoun County year after year because at BioMechanic Physical Therapy, we know it's important to both address your symptoms now - but more importantly - we correct the source of your pain. This makes you feel better now but it also prevents your problem from coming back. Wouldn't that be nice?
Pain can come from different sources; injury, surgery, or something that came on gradually. We work to understand the problem or dysfunction within your body that is causing pain. It may be muscular, skeletal, or a combination of both. Once we have determined the source, we develop a personalized plan that will correct it. We understand the mechanics of your body and what is not working the way it should so we can help make you better.
This is how Dr. Lisa Allen, PT, came up with the name "BioMechanic Physical Therapy". When the body's mechanics aren't working properly it can cause pain. To compensate, you may begin to move differently, which causes secondary pain and problems. To stop the cycle, your body's mechanics may need to be restored or corrected.
You may also meet the therapist in a FREE 15 minute consultation where we listen to you and will tell you if we can help.
Call 703-723-7726 to schedule your free screening.
We have worked hard to recruit ONLY the BEST! All of our therapists are highly trained and have many years of experience. We have therapists who specialize in different areas of the body as well as different sports, such as dancers, tri-athletes as well as young athletes. Please check out their brief resumes to see who would match the best with you. If you have any questions, please call, we can fill in the gaps!
The most important thing about our techniques is that we are founded in mechanics. Specifically your body's mechanics or biomechanics. All of our therapists believe that making sure the physics of you are optimized to get to reason of why you either developed a problem that came on slowly or what mechanics or physics might have been thrown off by your injury or surgery. We use our hands and mechanical tools to measure and evaluate, our analytical minds to solve the problem and our hands to restore you to perfect!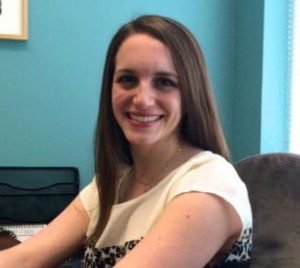 Dr. Sarah Donahue, PT
Name: Sarah Donahue
Hometown: Hagerstown, Maryland
Years of Experience: 8
Specialty: Orthopedics, Spine, MET (Muscle Energy Technique), PRI (Postural Restoration Institute integrated exercises)
Interesting Fact: Enjoys yoga, cooking, making beer, sports. Had her first baby in 2014!
Sarah received her Doctorate in Physical Therapy from Shenandoah University and attended the same for undergrad. She is an excellent manual therapist who is adept at treating all areas of the body. She often uses Muscle Energy Technique (MET), the most powerful tool for treating back, neck, and sacro-iliac pain and dysfunction. Sarah also practices Postural Restoration, also known as PRI, a technique that addresses how habits may be sabotaging you. Sarah is also a clinical instructor at Shenandoa University at their Northern Virginia Physical Therapy campus.
Sarah is our Director of Physical Therapy and is your go-to person for special questions, problems, and second opinions.
Come in today for an appointment to see how Sarah can help you, 703-723-7726!
Hanna Jefson, PTA
Physical Therapist Partner:Dr. Sarah Donahue
Years of Experience: 1
Specialty:Orthopedics, Spine, MET (Muscle Energy Technique), PRI (Postural Restoration Institute integrated exercises)
Interesting Fact: Marathon runner who worked at Potomac River Running during school so knows everything about running shoes & running. Self proclaimed "military brat".
Hanna Jefson and Dr. Sarah Donahue have created themselves as a team. Hanna recently graduated from Jefferson College of Health Science in Roanoke, Virginia with her PTA degree. Here at BioMechanic PT Dr. Donahue has been doing intensive training with Hanna, teaching all of her techniques so that Hanna and Dr. Donahue will be a seamless duo. This will allow Dr. Donahue's loyal following to both be seen by her and by Hanna. It will make more appointments available on Dr. Donahues heavily demanded schedule -- allowing you to get Sarah's knowledge and direction and she will have Hanna as an extra pair of skilled hands.
Dr. Lisa J. Allen, PT
Dr. Allen is the owner of BioMechanic Physical Therapy. Her Doctorate is from Temple University in Philadelphia, PA. She also holds a Master's in Physical Therapy from Temple University. Her undergraduate work includes a BS in Zoology and a BA in Studio Art obtained simultaneously from the University of Maryland at College Park.
She has specialized in Foot & Ankle physical therapy for 18 years and works with adults and children. Spine (including scoliosis and sacroiliac pain) is also a favorite.
Her certifications/awards include:
APTA Certified Clinical Instructor
Global Registry of Who's Who
Individual Award for Excellence in Practice, Washington, DC
Shining Star Awards from Georgetown University Hospital
Personal Trainer
Her personal interests include art, sport's cars, Siamese cats, and the beach.
Dr. Nicholas Grillo, PT
Nick Grillo joins BioMechanic with 3 years of orthopedic experience, but most notably he is currently the only therapist certified in Dry Needling, a very popular treatment for pain, muscle spasm and tendonitis.  
Nick obtained is Doctorate in Physical Therapy from Boston University and did his undergraduate work at the College of William & Mary in Williamsburg, VA.  As are most of the therapists at BioMechanic, Nick also holds a personal trainer certification.  Nick's interests and experience are with orthopedic and post-surgical patients with a strong focus on manual therapy and high value patient care.  He is a Clinical Instructor so  you may see him mentoring physical therapy students from around the country.
Watch Nick perform a live Dry Needling treatment on our YouTube channel or follow this link:  https://www.youtube.com/watch?v=FG5UCHbNiyI.
Call to schedule a Free Screening with Dr. Grillo to see if Dry Needling will work for you.
David Burkett, PTA
David brings 15 years of experience to BioMechanic PT. He graduated from NOVA in 2002 with is AAS in the Physical Therapist Assistant Program. David prefers a hands-on approach to physical therapy with a list of favorite techniques to include MET (Muscle Energy Technique), Myofascial Release, Core Stabilization, manual resistance and manual stretching. His favorite diagnoses to work on are ACL tears, Total Knee Replacements and spine.
David has impressive hobbies -- he is an American Tae Kwan Do 3rd Degree Blackbelt (he also teaches), he danced professionally for 5 years, and played National Soccer! He is a US Army Veteran who served with the 29th Light Infantry Division and Active duty with the 5th Infantry Division (and helped capture Manuel Noriega!) Wow.
David has 2 children, a boy and girl who are both in High School and play sports.
Dr. Danny Lenhert
Danny recently graduated from the University of Miami with his Doctorate of Physical Therapy. He was born and raised in Northern Virginia, where he attended Thomas Jefferson High School and George Mason University for his undergraduate studies. Danny previously worked as a personal trainer, where he honed his exercise prescription skills. Additionally, when Danny first started at BioMechanic Physical Therapy, he was able to work with out Foot & Ankle Specialist Dr. Lisa Allen, PT to improve his hands-on skills treating a variety of patients. Now, Danny is able to blend his hands-on treatment with exercise to achieve pain relief and long-term benefit for all types of patients.
In order to work with us here at BioMechanic Danny relocated from Miami to Ashburn.  He spoke Spanish during his three years of Physical Therapy Graduate School in Miami, and he hopes to keep practicing with patients at BioMechanic!  So if you speak Spanish, give him a "Hola"!
Pictured is Danny's English Bulldog "Lilly".
Come and work for BioMechanic Physical Therapy
Thinking of a career in Physical Therapy? Visit our careers page to see the available openings for Physical Therapists and Physical Therapist Assistants!